Held at the Westport Field Station from 7th to 13th of May 2006.
A detailed foray report by Petra White is also available as a PDF.
Funding from the Terrestrial and Freshwater Biodiversity Information System Program (TFBIS) allowed us to capture information on collections more systematically than had previously been attempted and the society is grateful to TFBIS for its support. More information on the TFBIS project may be found here.
During the foray we captured information on 682 collections representing 253 taxa. 335 collections were added to PDD. None had a Nationally Critical status although 57 records had a current Data Deficient status. However, 14 collections had only one previous collection, of which 4 new to NZ and 4 were the second collection after the original Type specimen (see below). In addition, the use of the FUNNZ tracking system allowed us to capture and collate 425 images of 165 taxa. Images of macrofungi in their fresh state are critical to identification because gross morphology is lost on drying. Many of the taxa had no previous captured image.
The complete species list, prepared using the protocols and databases funded by TFBIS, is now available. Only a subset of the information is currently publicly available (collector & determiner details are withheld). The list provides linkages to captured images and corresponding PDD collections.
Significant Collections:
Agaricus genadii – New record for New Zealand
Campanella olivaceonigra – Type collection only
Clavulina hispidulosa
Cortinarius ignellus – Type collection only
Cortinarius singularis – Type collection only
Dacrymyces tortus
Galerina austrocalyptrata – New record for New Zealand
Lepiota purpurata
Mycena carmeliana – New record for New Zealand
Nivatogastrium sp. – All species rarely collected in New Zealand
Pythium insidiosum – On a horse!
Resupinatus merulioides – New record for New Zealand
Selenosporella curvispora – New record for New Zealand
Thaxterogaster viola – Type collection only
Trichia crateriforms – Record requires confirmation
One News TV story
There was also a press release about the foray.
Some images:
Dacrymyces tortus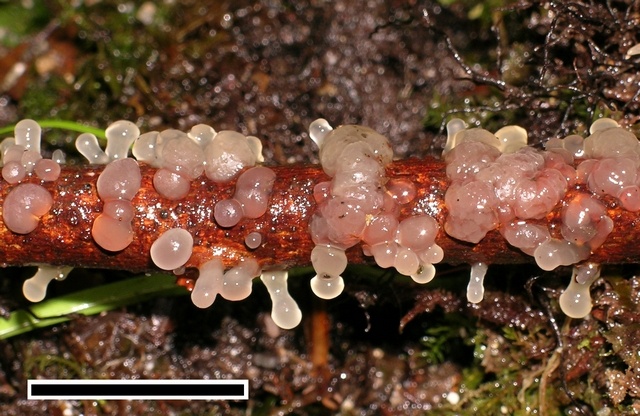 scale = 2cm. Differs from D. capitatus in having no clamps and thick walled spores. (= D. punctiformis auct. UK)
Galerina austrocalyptrata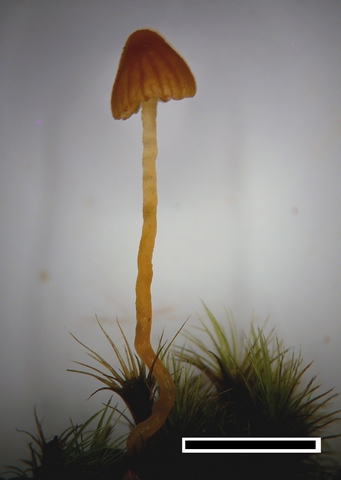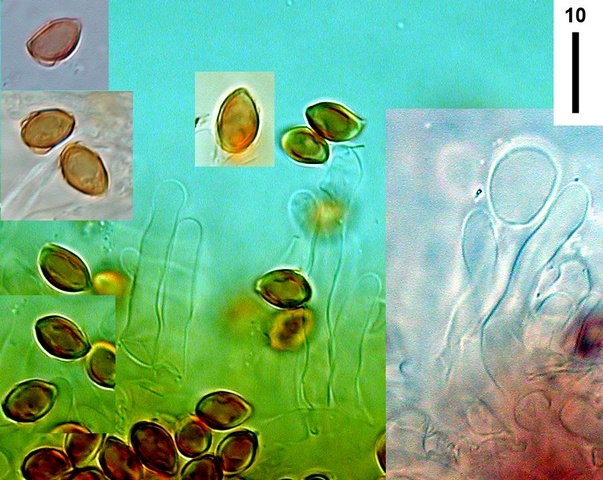 Scale = 5mm. Calyptrate spores and cheilocystidia.
Lepiota pupurata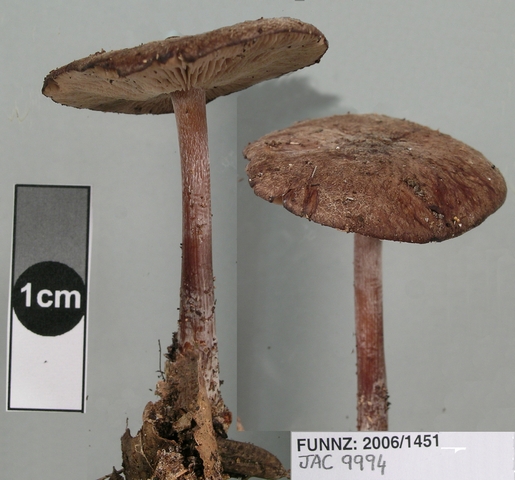 An unlikely looking Lepiota
Mycena carmeliana
Scale = 5mm. With yellow/orange basal disk.
Nivatogastrium sp.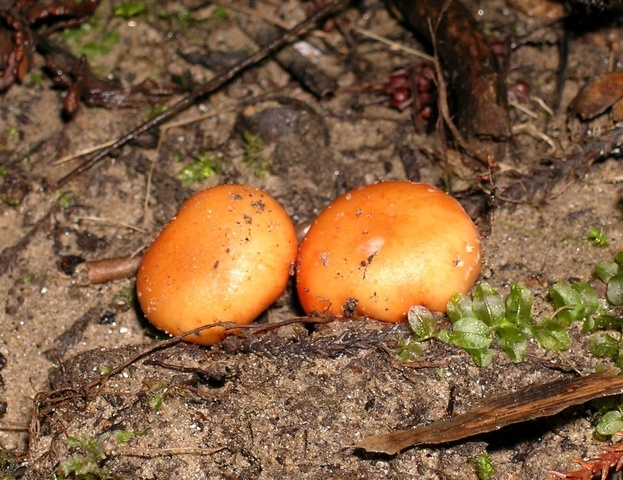 Resupinatus merulioides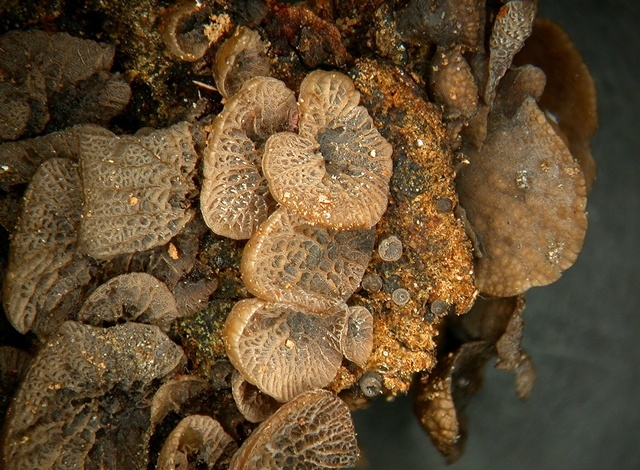 Collected by Pam & David Catcheside. This was originally described from Japan (from hotel grounds during an International Mycological Congress). A lookalike is Campanella vinosolivida but that has cylindrical spores, rather than the globose spores of a Resupinatus.
Cortinarius peraurantiacus (= Thaxterogaster aurantiacus)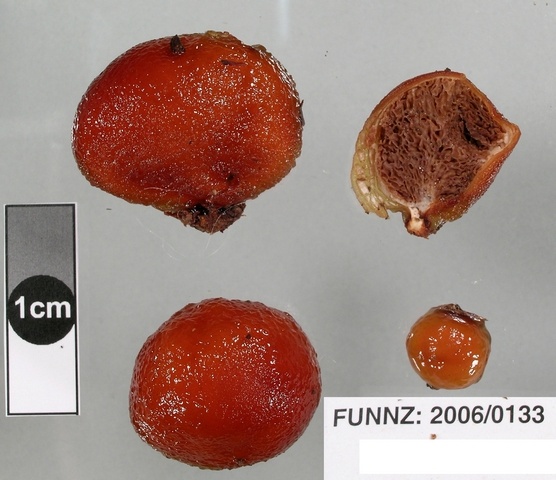 As featured on TV One news - along with David Orlovich
Phylloporus novaezelandiae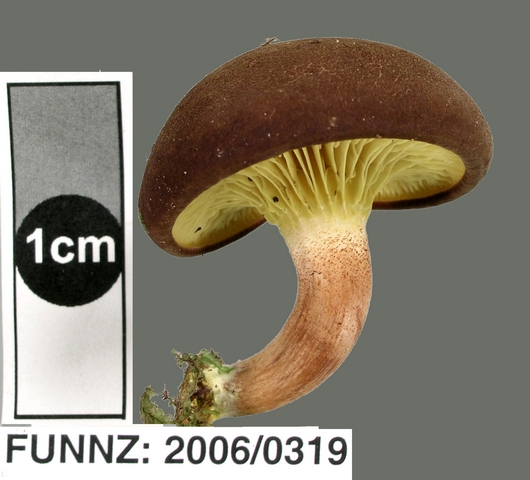 Aeruginospora c.f. furfuracea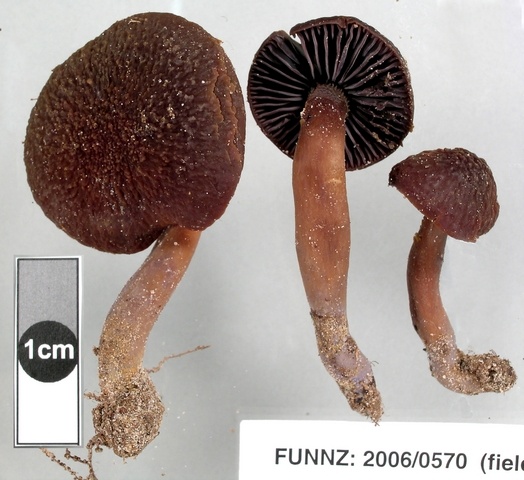 'Trichocomaceae sp.'
This, as yet unnamed, taxon has recently been discovered in at least 4 sites across the country on empty Powelliphanta shells. It isn't known if the fungus is detrimental to the snail.
Participants:
Ken and Val Allen Toni and Pamela Atkinson Peter Austwick Stewart Bell Peter Buchanan Brian Butterworth Cressida Bywater Pam and David Catcheside Jerry Cooper Nic Cummings Ian Dickie Suzy Draffin Toshimitsu Fukiharu Genevieve Gates Tegan Garland Helen Greenep Malcolm Greenway Don and Gwen Horne Abe Gray Egon and Almut Horak Karen Hughes Peter Johnston Shirley Kerr Hilary Kitchen Phil Knightbridge Komei Kadowaki Daniel List Gabrielle Lockett David Lyttle Baxter Massey Geoff Monk Greg Mueller Pauline and Ross Muir Machiel Noordeloos David Orlovich Naoya Osawa Barbara Paulus Shaun Pennycook Ron Petersen Michael and Shelley Pilkington Biddy Pollard David Ratkowsky Geoff Ridley Innes Ritchie Andrea Roberts Jenny and David Shorten Karl Soop Betty Strack Chihiro Tanake Nobuko Tuno Silas Villas-Boas Katrin Walbert Petra White Paula Wilkie Bill and Diana Wilson